Have you ever seen a small child excitedly smear brightly colored paints on a piece of paper? Or maybe you've witnessed the first time a child grips a crayon in their chubby fist and scribbles all over paper and a table. Perhaps you've even seen the mischievous eye of a toddler who has helpfully decorated a wall or themselves with a pencil or marker.
The first pieces of a child's artwork generally don't look like masterpieces. For a young child especially, the first pieces are more of an exploration with the medium; not necessarily an example of what they see in their mind's eye.
As a child grows older and becomes more proficient with various mediums, their artwork evolves into easily distinguishable pieces. From family pictures to whatever their little imaginations think up, becoming more proficient with artwork is a natural step in a child's development.
Yet, a development in simply creating art is more far reaching than just milestones, as this article will discuss. Every aspect of a child's life can be impacted by the arts. Art is far more than just art class, but it can positively influence every area in a child's life.
For this article, and for much of the supporting documentation, the early childhood period references from birth through 8 years old. This period has been widely documented as critical in a child's development, in every aspect of their life. While there are still many gaps in the overall understanding of how a child learns and develops, research is ongoing, but it does support the importance of art in a child's education and development. Here's why:
Art and development
Motor Skills
Holding a crayon or paintbrush and creating intentionally with it, is an example of a child's finely tuned and carefully learned motor skills. But a child doesn't need to have a tool to exhibit motor skills. For most children, experimenting with finger paints or even food is the very start to better understanding their body and how to react. Each time a small child smears paint, or broccoli, with his hands, he is strengthening his little hand muscles and teaching them how to react.
An older child, because of the experience they have gained smearing with their hands is able to hold a pencil or crayon correctly, because their muscles have strengthened over time. Giving a child a variety of materials, not just for writing, but also materials for cutting, glueing, and more allows them to experiment and improve their strength and their skills. The small skills have built up to skills they'll use for the rest of their lives.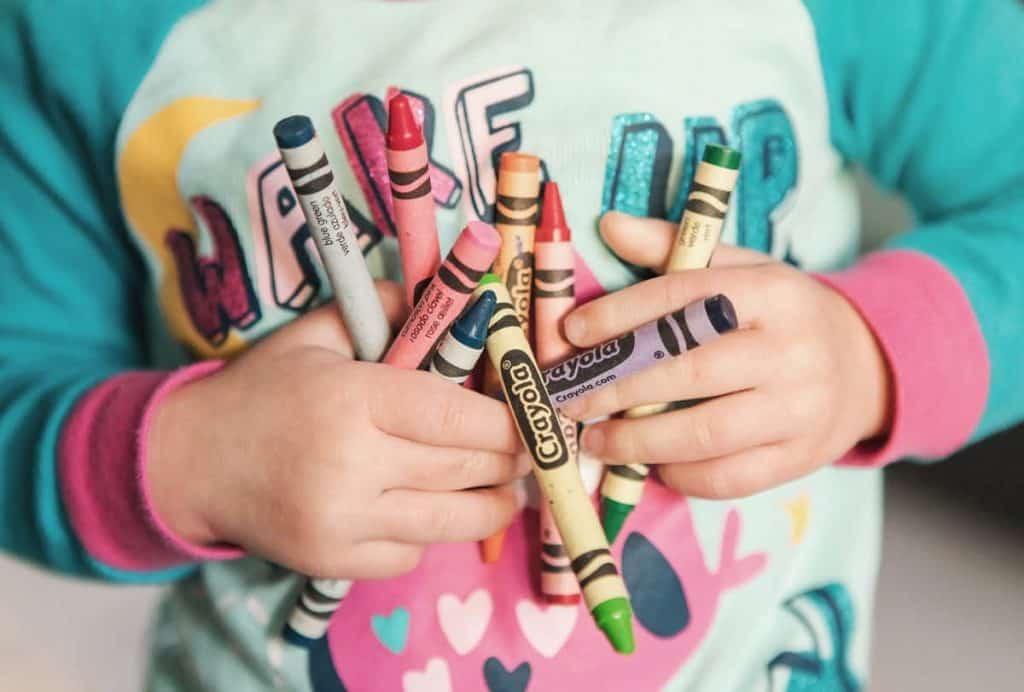 Problem Solving Skills
Even very small children are experimenting with problem solving and art from a young age. Consider the small child finger painting. If having their hands covered in paint is bothersome, they'll try to wipe it off. An older child will use pieces together to create a sustainable piece, and will problem solve to create something that fits their goals. They may use tape, sticks, string, or whatever is on hand to fit their needs and work towards solving their piece.
By allowing a child to work independently and create as they feel, we can offer children a better way to experiment and think through how and why they create something. For instance, if a child cuts too much on a piece of paper, allow them to use tape to fix it, instead of getting a new piece. Art offers the ability to experiment tactically in a safe environment, giving the child a better way to cope and handle what might be an unexpected outcome of their overall design.
Instead of setting up carefully curated art projects where the outcome is predetermined, setting up the mediums needed and letting a child lead and direct is optimal. It allows and encourages a child to think outside of the proverbial box, work and be influenced by their imagination, and better experience and understand different mediums.
Social Skills
We all encourage our children to share, and before children really begin to play together, there are often small fights over toys, with each child claiming, "Mine!". As children learn to work and play together, art can assist in improving social skills. From sharing crayons and scissors, to asking permission to borrow pieces, art creates a common bond between kids and encourages both uniqueness and working together in a group.
Communication Skills
Art may be one of the first ways a child works towards visually communicating. For children particularly who are delayed in speaking, their artwork can speak volumes. They can draw what they wish to say, or they can better illustrate their feelings and emotions. Art is highly connected to emotional and verbal responses, even in children who struggle with voicing themselves.
Art also offers children, especially young ones, a way of hands-on learning as they explore different colours, shapes, and textures. By saying, "red paint" as they smear the red paint on the paper, the child is able to both feel and see what red paint feels like, as opposed to yellow and blues. They can mix colors together to make new colours and better experience the rainbow that is at their fingertips.
Even for children who are verbally on track, artwork offers a way of self-expression and gives them the opportunity to express themselves in different ways. Older, verbal children can better explain their pieces when asked, making artwork a way to see their thought process and more.
How to interact with a child over artwork
Sitting down and looking at a work in progress can be a confusing conversation for both the child and the adult. A young child may change their mind about what the artwork is, or they may not be able to express what they drew or want to draw. And an older child may feel bashful or shy about their piece and answering questions. Talking naturally about artwork allows for a parent or teacher to better engage and understand a child and for the child to be responsive in their answers.
Talking about their art as they're doing it or after they're doing it can lead to more conversations about art. Just noting the colours used or the shapes involved can lead to a better conversation than, "Tell me about your picture." Point out the colors they're using or the materials they have. Give them a wide variety of materials to better converse about and describe.
Lastly, when you're working together, don't try to direct them. Allow them to lead and ask questions, or don't. Keep it relaxed and fun and when the child is ready to stop, allow them to finish and work on cleaning up together.
The importance of a Wide Variety in Art
Hands on artwork isn't the only way that art will impact a child's development. Art is a broad term, and many will immediately connect child's art to crayons and basic stick figures. But art, even for children, goes far deeper in it's exhibition and impact on a child's development.
A study from the National Endowment for the Arts that took place from 2000-2015 looked at the importance of arts from theatre to drawing and painting. They discovered that a strong art emphasis impacted social skills, such as helping, caring, and empathizing with others. They also discovered that arts impacted mood control and also positively impacted how a child expresses themselves. 
Literature
As parents or teachers, we read to a child from an early age, for some of us, reading begins before they're even born. Many experts believe that reading from an early age helps better install adult readers. Additionally, reading is a hands-on activity, giving young children the opportunity to touch, listen, speak, and feel, all of which greatly contribute to their education.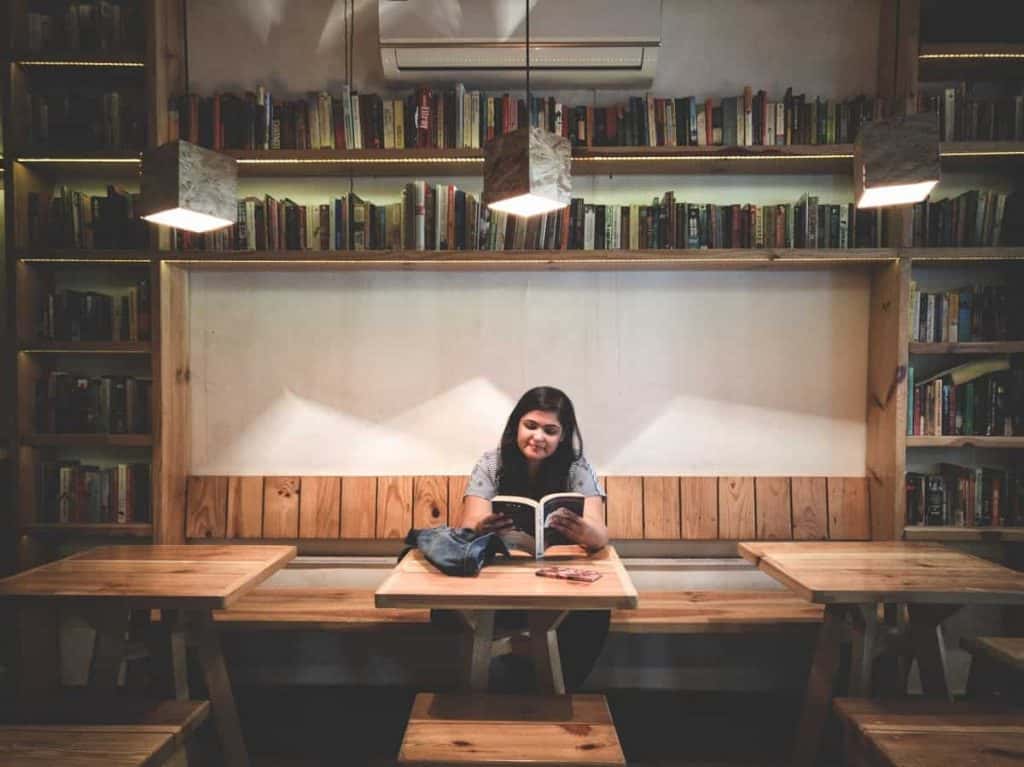 Music
Music also is a form of art that helps a child learn. From teaching rhymes or even the alphabet, music helps with memorizing and with speaking. And while the Mozart Effect is still a popular method and reason many parents have their kids listen to classical music, recent studies have determined that children and adults both learn and focus better if they're listening to music. While listening to music isn't going to make any child a Mozart level genius, it does help a child learn better and ultimately, it is a relaxing way to function for both adults and children. 
Bodily Expression
Perhaps, your child has a hard time sitting still and their little body has to constantly be in motion. Ballet, gymnastics, even karate are all forms of artistic bodily expression that can help a child learn about themselves, learn how to better express themselves, and learn more about the world around them in general.
Bodily expression also gives your child improved strength and helps with their balance and coordination. Moving also can help improve their interaction and relationships with others, making bodily expression a physical aspect of the arts that can benefit all children.
A 2006 study noted that bodily expression actually improved children's behaviour and improved their competence in a social setting. While the study was done on a small scale over 8 weeks, it does indicate that all children thrive when they're allowed and encouraged to have bodily expression. 
Theatre
Putting a child, even a young child, into theatre, gives them the ability to put themselves into another's person's shoes. This encourages empathy and a greater understanding of those who are different than the child. It opens their eyes to both seen and unseen differences, and the earlier this type of empathy starts, the better.
The impact of the Arts is universal
The study from the NEA looked at a wide variety of children over it's 15 year duration. It also studied children who were all very different from each other, in terms of demographics and disorders. And here is what it determined:
Gender:
While gender does play a role in child development, gender did not necessarily impact any results from the art's impact on social-emotional outcomes. This is supported by other studies, most notably a 2010 study by Kennedy Root & Denham, who theorized that gender impacts socialization and overall development. Essentially, small children all learn equally how to regulate their emotions well, when they study and experiment with art. 
Socio-Economic Status
The NEA looked at children from a varied socioeconomic status and the study determined that children who were from a low socioeconomic background and had arts integrated into their preschool programs better regulated emotions and had better positive expressions than their peers who did not have arts in preschool.
An early childhood research study completed in 2013 also noted that children coming from lower socioeconomic backgrounds, who interacted in visual art classes, along with dance and music, were better emotionally regulated than their peers who did not have an arts emphasis. The regulated emotions carried over into student-teacher relations, as students with an arts background were better emotionally regulated in their interactions with teachers, than their peers. The overall takeaway from this study was that having arts, particularly in schools with students who have lower socioeconomic backgrounds, can help regulate student emotions and prevent long term emotional issues from occurring specifically in a school setting. 
Autism
The study also included children with autism, which is normally identified in a child by age three. The NEA study noted that children with autism reacted positively to music by maintaining eye contact and other positive outcomes. These outcomes were not repeated by play sessions, but showed up primarily in music sessions, indicating that music and not hands on art is more beneficial to children with autism.
Autism is a deeply complex subject, and while every child learns differently, autism impacts learning as well. This study is not definitive when it comes to how every child will react with music and autism, but it does show some promise when it comes to arts and autisic children.
How art impacts a child, both now and in the future
Art in a young child's life, as we've discussed, impacts emotions and emotional regulations, can help with their speech, their interaction with others, and overall impact how well they learn. This is predominately in younger children from birth to 8 years old, based on a myriad of studies that look at art in a young child's life.
A 2012 study in Houston looked at art in middle schoolers, from a wide variety of backgrounds and determined that even at an older age, art has positive influences. The study stated, "We find that a substantial increase in arts educational experiences has remarkable impacts on students' academic, social, and emotional outcomes. Relative to students assigned to the control group, treatment school students experienced a 3.6 percentage point reduction in disciplinary infractions, an improvement of 13 percent of a standard deviation in standardized writing scores, and an increase of 8 percent of a standard deviation in their compassion for others. In terms of our measure of compassion for others, students who received more arts education experiences are more interested in how other people feel and more likely to want to help people who are treated badly."
As a child grows and develops, the impact of art is still important, even when they reach high school. As high school generally prepares a student for further education and that education is often determined by the SAT test, many students, parents, and teachers prep for months to years to help pass the SAT. Interestingly enough, the connection between the SAT and the arts is well-documented. Students who have had a background in arts, particularly in middle and high school, generally do better on the math and verbal SAT scores, than their peers who do not have arts classes. A 2005 study noted that students who had 4 years of arts when they took the SAT on average were 58 and 38 points ahead of their peers in verbal and math respectively. 
While some art is better than nothing, the evidence repeatedly shows that art in a child from birth onwards impacts not just early childhood development, but even their SAT scores. As more and more schools are moving away from having an arts program, current research indicates that it's more far reaching than many realized. As a result, there is no better time than today to start doing art with your child, to improve their development and future growth.